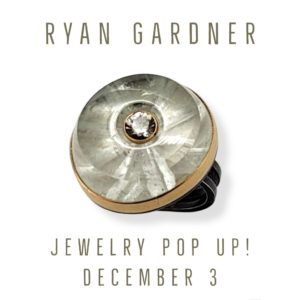 Join us on Friday December 3, 5-7pm for a pop up trunk show with jeweler Ryan Gardner. This will be our first in-person event in nearly two years! Location to be announced.
Ryan is also teaching a stone carving class on Saturday and Sunday, December 4 and 5. We have ONE spot left! Learn more and register HERE.
Ryan Gardner
Participation in the arts was always important to me growing up. A strong arts program in high school influenced my decision to pursue a degree in the arts. I chose the arts program at Bowling Green State University in northwest Ohio where I discovered and fell in love with metals. I was introduced to many artists, including Michael Boyd, who became an inspiration for me.
Upon graduation I apprenticed for Michael Boyd at his studio in Colorado. That experience turned into an eight year adventure that continues today. It was with Michael that I learned to work with and manipulate stone, adding a new element to my love of jewelry design.
Since being in Colorado I have started my own business, Ryan Gardner Designs. I now showcase my work in galleries across the country. I love working with combining stone and metal in new ways creating works of art for people to enjoy in their daily lives.