Dear Friends,
June was full of surprises and the biggest for me was anticipating who would be crowned Champion of the Ring Smackdown 2020! After a grueling month of competition, Karen Keller of Pyrus Designs took the big win with her lovely ring, "Secrets Safe with Me" made from sterling silver and bolder opal.
Karen says, "This hand fabricated flip ring is full of surprises! One side has a galactic boulder opal simply set in a shadow box frame. The second side features a hand sawn beetle. Beetles are symbols of resilience and hard work while boulder opals are believed to bring clarity and emotional security. This piece also contains a 'secret drawer'…although small, it is meant for any personal keepsake/secret. The last surprise is its versatility. It wears just as beautifully as a pendant as it a does ring!"
Karen made this ring especial for the competition. She took the opportunity to challenge herself and was rewarded well. Let's all take a lesson from Karen! What a memorable adventure the Battle of the Rings 2020 was. It helped many people get through a tough spring and it certainly kept us all on our toes at Danaca Design. There's no doubt, we will do this again next year. See ALL the rings HERE. Some of my personal favorites, which I will be featuring on Instagram over the next week, are still for sale!
In other exciting news we held our first class in the newly retrofitted Danaca Design studio space, the Beginning Jewelry Series: Introduction workshop. It was a small class which was a great way to get familiar with the new layout and covid protocols. I was concerned it wouldn't be as much fun as B.C. (before Covid!) but this excellent group of students proved otherwise. Our new class limit is 6 students and our protocol is strict. Take a look at it HERE.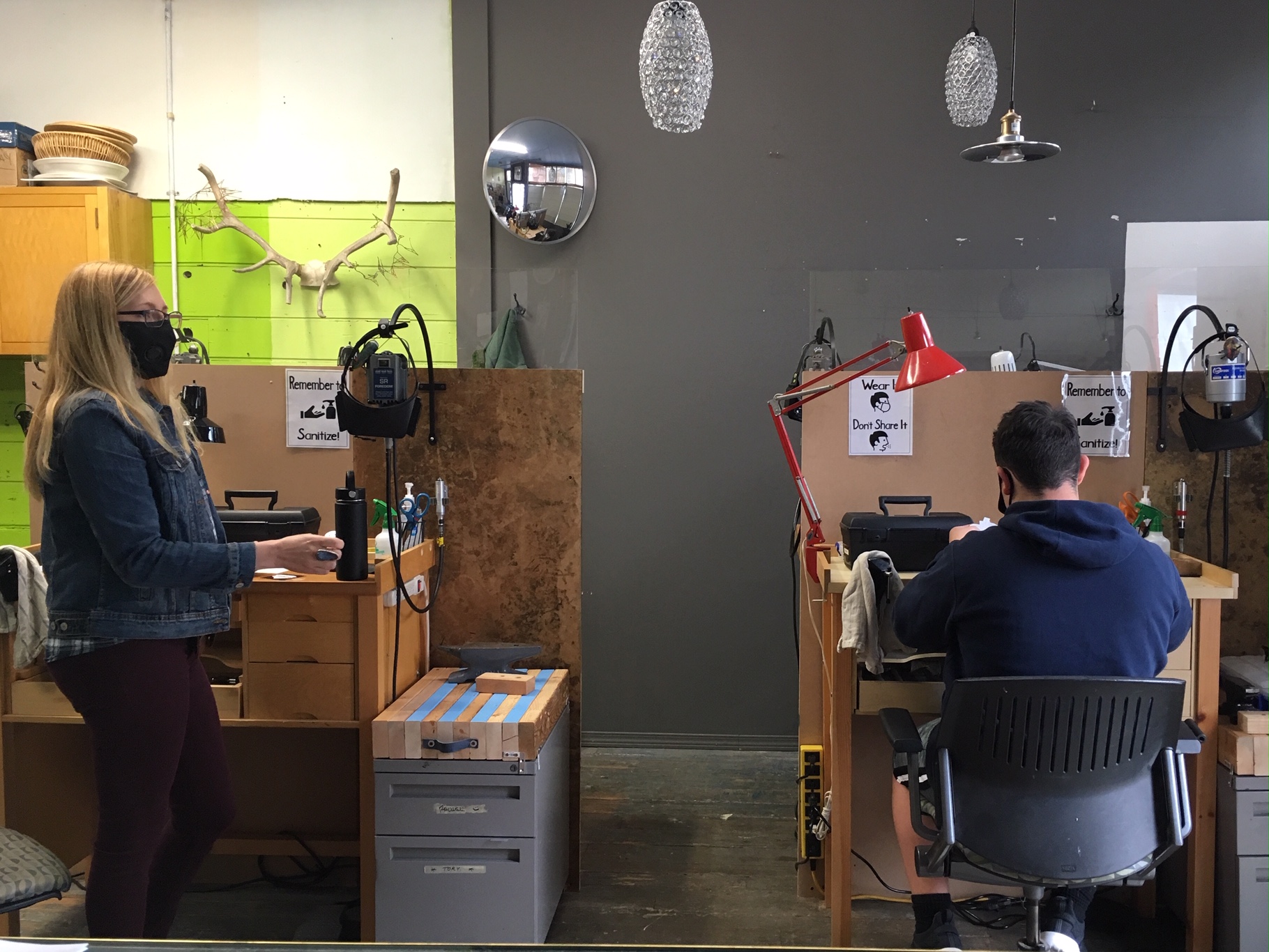 We're starting to open up more workshops for the summer so if you're ready to get back into the studio, we're ready for you.  Check the website for regular updates, www.danacadesign.com. To make room for Covid-safe classes something had to give; sadly, for a variety of reasons, our storefront gallery became the sacrificial beast. This decision was not made lightly. Fortunately, our online gallery has taken off! So if you are looking for a special piece of jewelry for yourself or a friend please make Danaca Design Gallery a part of your shopping experience.
Although we celebrate our anniversary at Danaca Design every year in December, it was July 1, 2003 when I took the plunge and rented the building on University Way, 17 years ago… I had this idea that it would be cool to create a gathering space for people to learn and share knowledge of metalsmithing, my passion, without being locked into a long term class. And that this place could provide the tools and atmosphere for individuals to grow creatively and thus personally. It was quite a dream for a single, thirty-something-year old with no savings account, but I'll be darned if that dream didn't materialize.
Of course it wouldn't have been possible without you, so cheers to you all! I say, let's keep dreaming. I can dream with a mask on, can you?
Dana