Notes from an interview with Micki Lippe about her collection of Art Jewelry Trades 
by Claire Ramsey  
A craft trade show is a marketplace where wholesalers can purchase and order objects to sell in their shops and galleries, and where regular shoppers can shop on retail days. The American Craft Council shows are a well-known example, particularly the Baltimore and San Francisco shows, although ACC now holds shows in various places, and even online. Micki Lippe's first trade show was the Baltimore ACC show and thus began her extensive collection of art jewelry. 
Micki learned about the Baltimore ACC show through a fellow artist when she lived in Charlottesville and had a studio set-up in a building shared by multiple artists. That Baltimore show featured about 800 exhibitors showing a range of crafts, from jewelry to ceramics, clothing, toys, and puppets. She recalls two very busy wholesale days – she took between $35,000 and $50,000 in orders and shipped up to $100,000 in orders afterwards because of her repeat customers. Three wholesale days followed the two retail days, although some retail shoppers re-invented themselves as wholesalers by passing out business cards they'd had printed as if they owned businesses.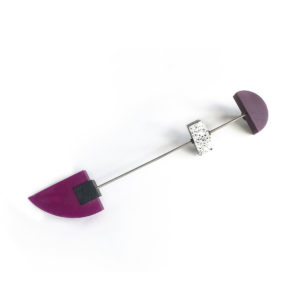 Artists were juried into the show the old-fashioned way, by submitting professionally shot slides of their work, and then checking their mailboxes every day for an acceptance letter. Once accepted they were assigned a spot at the show venue – a chalked off space on a concrete floor. Artists had to bring everything for their stalls – carpet, vitrines, lights, Sears utility shelves and fabric to hide their industrial look, and various ways to display their goods. Micki tells of stuffing "Mr. Carpet" into her car from the dashboard to the back window, hauling Abstracta display cases, driving to shows, and inventing such things as layers of plexiglass shards (shattered by her own hands) and expensive plexiglass balls as settings for displays. Artists often brought their families along to shows. Micki paid her kids when they worked for her at shows, and at one show Micki's daughter Tanya, at age 12 reportedly "made trouble" with the other kids because she told them about her paycheck.  At one show w/o awnings in Virginia the summer heat and humidity turned her jewelry into "little branding irons." 
Micki sold at trade shows in Rhinebeck NY, Baltimore, Dallas, and San Francisco, and at smaller outdoor shows, and eventually flew to trade shows with her wares and her display equipment. At one show, a group of well-off appearing women showed their business cards, and looked over her goods, gushing that they loved her jewelry. One of them stayed at Micki's stall and pored over her jewelry. When the other women returned and asked their friend what she had ordered, she reported "I didn't order anything because I have a closet full of clothes with Peter Pan collars and none of the necklaces would look good with my clothes. I need clothes like hers," pointing to Micki who that she was wearing a kimono type top she'd bought for $10.00 someplace.  
When shows were slow on retail days, artists would start trading. Wholesale days were usually busy but when things slowed down, there was time to wander through the stalls and see what other artists were doing. Trades were always based on the value of the pieces. An artist would say "I like that, do you want to trade?" and they would negotiate. Micki displayed a variety of pieces with a range of prices, and traded mainly pairs of earrings from her production lines, or, if she was trading for a more expensive item from another maker, a box of a Micki Lippe pieces. Micki traded so that she'd have "something to take home," and in addition to jewelry, acquired ceramics, clothing, and hand puppets for her husband Bill. She sometimes purchased pieces from other artists, knowing that sales were artists' livelihood. It was fun to wear jewelry that others had made, until people asked whether she'd made it herself. There came a point when she could not bear to see "the disappointed looks on their faces" when she said that she hadn't made the piece. Eventually she stopped wearing the bounty from her trades. "I amassed all of that jewelry but ended up not wearing it" and as many jewelers do, promoted her own work by wearing it.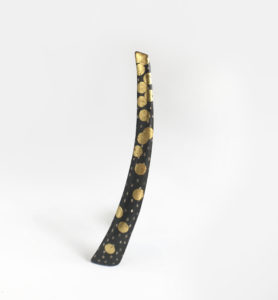 The pieces curated by Maru Almeida for the exhibition in the Danaca Design Gallery Showroom, demonstrate techniques that Micki did not use herself, but that she found useful when teaching. They illustrate creativity and imaginative thinking. She admires intricate pieces assembled without solder, creative cold connections or use of tubing, and makers who creatively use minimal tools, or who innovate ways to use the materials at hand. She recalls a teacher she met in Germany soon after the wall came down, when sheets of wax for casting were not available. She needed a big sheet to cast a candleholder in honor of a poet, so took a tray from the lunchroom, melted some wax and made her own sheet by flooding the tray.  
See COLLECTION: A curated selection of art jewelry collected by Micki Lippe in the Danaca Design Gallery Showroom September 12 – October 10. 
Join Micki for a reception and guided tour Saturday, October 8, 1:00 – 2:30 RSVP required. Event is currently full. Please email dana@danacadesign.com to be added to the waitlist.
During many years on the road, doing American Craft Council shows, like many artists, Micki traded with fellow makers. It is one of the best ways to build a fine collection of interesting jewelry. This section of 35 pieces curated by Maru Almeida includes brooches, earrings and necklaces created by a wide range of artists, over the course of a couple decades. These include work from Bob Ebendorf, Ford and Forlano and Diane Falkenhagen. Micki hopes that a peek at this collection will serve to provide design and technical inspiration to other makers. This is your chance to see the back of the brooch! 
COLLECTION: Treasures from a Jeweler's Perspective is a new exhibition series in the Danaca Design Gallery Showroom. Art jewelers are collectors. Tools, gems, jewelry, imagery, and rusty metal; honestly I do not think I've ever met an art jeweler who did not collect at least one of the above. More often than not, all and more. The inspiration for this new gallery series is to peek into a single jeweler's collection. Just one of them. This September we will explore a selection of jewelry works collected by local jeweler Micki Lippe.