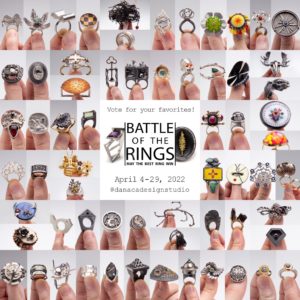 Today is the day. The day so many of you have been waiting for. The Danaca Design International RING SMACKDOWN begins TODAY! 
Every morning during the month of April I will be posting information on our Instagram feed @danacdesignstudio about the ring matches of the day. There will be up to four matches each day. The posts will include images, video and the story behind the rings to help you choose your favorite. 
At 9:00 AM Pacific Time; voting opens for exactly 24 hours in our Instagram story. This is where you can vote for your favorite rings! When you are ready, head to our Instagram page @danacadesignstudio and find the stories behind the green flower. There you will tap TOP, BOTTOM, LEFT or RIGHT based on the location of your favorite ring. Don't worry if the story passes before you get a chance to vote. You can go back. There are going to be some VERY difficult choices…that is just the nature of the game.  
Not sure what I'm talking about? Read more about the competition HERE. 
VERY IMPORTANT: ALL of these rings are available to purchase AND you can see them all in person in our GALLERY SHOWROOM! Seriously, don't miss this chance to see the rings in real life. They are worth the trip! Request access information to the showroom HERE. 
Battle of the Rings, otherwise known as the Ring Smackdown, is a head-to-head, tournament style, single-elimination juried competition and virtual event. First conceived in the spring of 2020, this event encourages creativity, comradery among artists and a passion for the art of jewelry, most especially the ring. This year our Jurors, Elizabeth Shypertt and Jim Dailing, juried 64 rings from a pool of 136 submissions from 16 countries. The rings will compete in daily matches on Instagram, April 4-29. All 64 rings plus 1 alternate are available for purchase through April, a wonderful opportunity for both collectors and participating artists. 
MAY THE BEST RING WIN! 
Have fun and good luck!