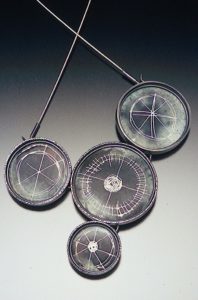 Image and Mark Making in Enamel with Jan Smith
August 17-19 at Danaca Design
"I love the diversity and seductive qualities of the enamel and enjoy sharing an understanding of the material with students. I begin with a simple sketch, using the enamel as a printmaking or drawing medium, I work rather intuitively allowing the work to evolve. There is an element of assemblage or evolution in my process and composition, and I am excited about the imperfections in the surfaces." -Jan Smith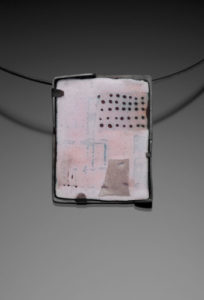 With her decades of experience as a printmaker and jewelry designer, Jan Smith has a remarkable amount of expertise creating various compositions in enamel with a wide range of techniques. Her illustrative approach is translated into botanical and natural forms as well as more abstract and modern designs that rely on linear detail, diverse layers of color, and fine execution.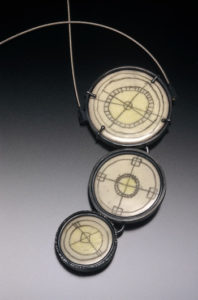 Over three days in August, Smith will lead students through a broad range of techniques to develop exciting surfaces. With sgraffito, students can create multiple layers of contrasting color by scratching or drawing designs in a top layer of enamel allowing the color beneath to show through after the piece has been fired. Through multiple layers of opaque or translucent glazes, different effects and levels of depth in the piece can be achieved. Underglaze pencils and watercolor techniques allow for more intensive detail and line-work, as well as intriguing color-play evoking greater subtlety and depth in the designs. Over-glazing in translucent or clear finishes can achieve unifying effects and protect the piece. Ultimately this workshop will open a whole new world of detail and depth to every students enamel work.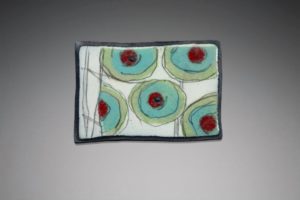 In Image and Mark Making in Enamel, Jan Smith takes the time to explain how each method can work with the others to build distinctive pieces. Students create prototypes of each technique, getting a feel for each method's possibilities, and then create a series of pieces that can be incorporated into their jewelry. Armed with new knowledge, tools, and enamels, practitioners will have an entirely new narrative with which to compose pieces and images to "make their mark".
We can't wait!