By Tegan Wallace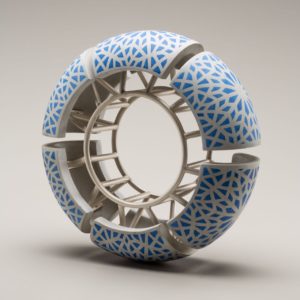 Contemporary jewelry is known for its inclusion of a wide variety of materials beyond metal and stones. The value of contemporary work often comes from the story told in a piece, the intent, and the personal connection to a particular aesthetic.  Today, artists have the freedom to select materials that help tell their stories, whether in gold, silver, or everyday materials that we may take for granted. 
One such material is concrete. Concrete is a blend of aggregates (gravel, sand, etc) and cement (a binding agent made up of calcium, silicon, aluminum, iron and other ingredients). Concrete used in jewelry is comprised of very finely ground aggregate and binder that can be mixed in very small batches. It can be manipulated in a variety of ways including colored, and, to get technical, it's a really awesome jewelry material. Here are a few of the highlights. 
Concrete is much lighter than stones, resin, or polymer (just binder and very fine aggregate after the water evaporates). This is particularly important when making larger works. 

 
Concrete is less messy and potentially toxic than plastic resins (It does, however, contain silica and also ingredients that can irritate the skin. Be sure to wear gloves and, if using a large enough amount to raise dust, use a mask. Safety first!).

 
Concrete can be cast and shaped. It can be poured into bezels or cast in molds – silicon or DIY versions made from cardboard and tape. It can be carved with course files or rasps after several hours of drying time. When it has more fully set up, it can be refined and polished with wet/dry sand paper (Again, remember that concrete contains silica – wear a dust mask if you're creating airborne dust!).

 
Concrete can be colored. While basic grey has a great industrial look, it's also possible to add powdered pigments, chalk, and even latex paint to concrete to give it a wide variety of hues. Concrete can also be gold leafed, either by placing leaf in a mold before pouring or by using adhesive after it cures.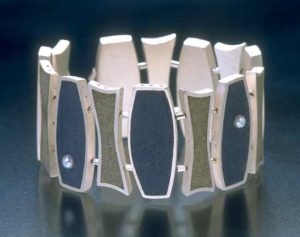 It's important to note that concrete has been used by well-known jewelry artists for decades. Seattle's own Frances Smersh made her beautiful line of architectural jewelry using silver, colored concrete, and pearls.  
Jeweler Jim Cotter has been using concrete for decades. He said he was inspired by the idea of "Taking industrial materials and breaking [them] down and maybe making it precious…[concrete]'s a logical kind of material to use because it has no boundaries and it has an incredible amount of beauty."
Canadian jeweler Andrew Goss began working with concrete in the late-1970s, saying "The motivation of the concrete is a reaction against preciousness." His works include diamonds submerged in concrete and cast concrete pendants covered in gold leaf.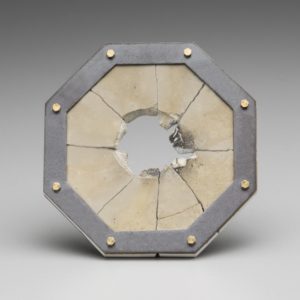 Bringing concrete into the present day is artist Michael Nashef. He uses vibrantly colored concrete and 3D printed elements to create incredible works influenced by architecture and the destructive nature of war. He also happens to be teaching a workshop on concrete at Danaca Design this weekend! Among the topics Michael will cover are ways to color and to mold concrete, as well as mold-making techniques.  
I'm incredibly excited for this workshop. Concrete looks cool and is a very accessible material (nothing more frustrating than taking a workshop where the materials are so esoteric that they're hard to source…). The colors Michael uses in his work are as stunning as the forms he creates. My head's already spinning with all the questions and the possibilities the material presents. This workshop is one of those experiences that feels like it's going to be transformative. I'm told there are one or two seats left – you should definitely sign up. 
Workshop details HERE. 
Danaca Design is also hosting a Jewelry Pop-up with Michael Thursday evening, September 22 in the Gallery SHOWROOM. Check out his work and meet the artist! 
Find details HERE!