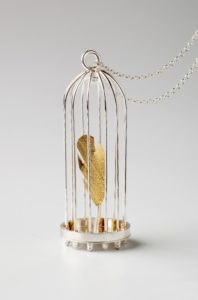 The store-front gallery showcases independent artists (professional and amateur) representing a mix of contemporary and traditional jewelry, all high-quality and handmade. Check out the online gallery. Clients can also work with Danaca's artists to design custom jewelry pieces especially for themselves or a loved one.
The gallery hosts several gallery events and special exhibitions throughout the year featuring new work and the opportunity to mingle with the artists and studio instructors. Student participation is encouraged in many of the shows. See the Events page for current details. To receive notification of these fun events via e-mail add your name to our mailing list.
Note: Our mailing list is never shared with any third parties.
Gallery Hours
Monday – Friday | 11 – 6 pm
Saturday | 10 – 6 pm
Closed Sunday