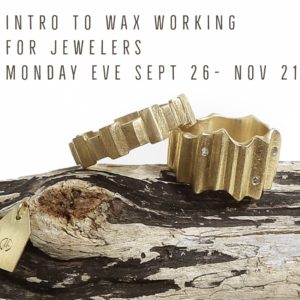 Introduction to Wax Working for Jewelers
Six Monday nights, 6:00 – 9:30pm
September 26, October 3, 10, 17, 24, November 14, 21 (NO CLASS Oct 31 and Nov 7)
The ancient technique of lost wax casting is widely used today for mass production of jewelry and jewelry components. However, it is also perfect for creating exceptional, one-of-a-kind jewelry pieces. Join this informative and inspiring class in which students will learn to carve, texture and manipulate wax to create models to be casted in metal. Wax is a wonderfully versatile material that can be shaped with simple hand tools. It can also be melted opening up fantastic design possibilities different from working directly in metal. The class will cover how to carve and size rings, how to draft and lay out three dimensional models as well as other exciting ideas. After four classes of wax working, your models will be casted and then returned to be cleaned and finished in our last 2 sessions.
Learn more or register HERE