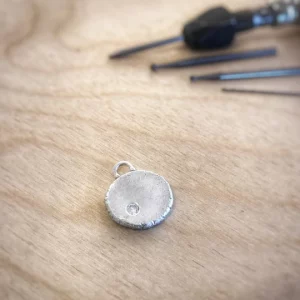 Flush Sone Setting Quickie
Instructor: Maru Almeida
June 11, Saturday, 10-4
Flush setting is a great technique that allows you to set faceted gemstones on the surface of your metal. Setting faceted stones requires a certain amount of precision and close inspection, once you understand the parameters for flush setting you will be amazed at how smoothly this technique can be applied to your designs. The class is aimed for students to practice the technique multiple times to build up confidence. Students will also be customizing the tool necessary for the technique. After setting their practice piece, students will get to melt some metal and create a silver pendant to take home.
Learn more or register HERE