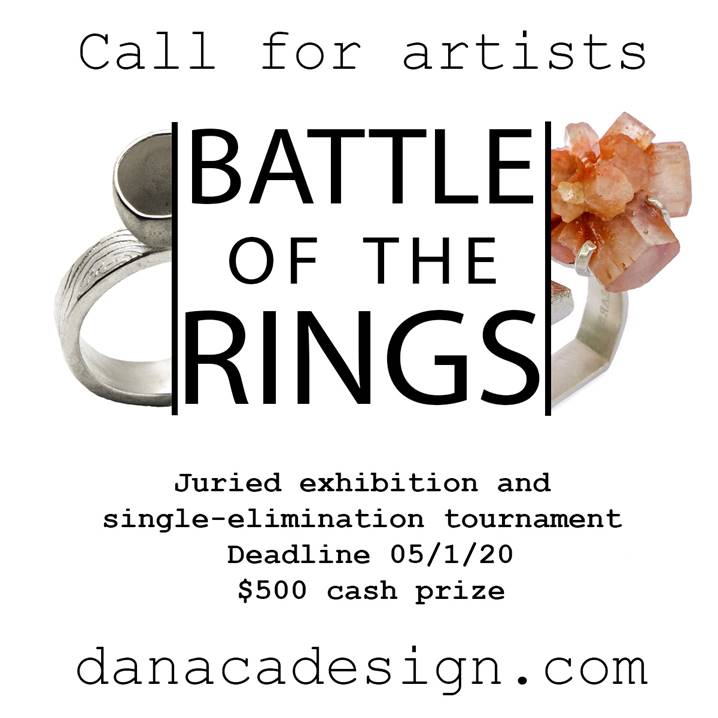 Thank you for entering the competition!
The entry form is now closed.
Battle of the Rings is a head-to-head, tournament style, single-elimination juried competition, with a top prize of $500. Two jurors will select up to 64 rings.  These rings will be paired into matches and posted to our Instagram story at 9am (Pacific), every day in June. Each ring can win up to three points in a match. One is given to the winner of the Instagram poll; the other two points come from our judges. The Ring with the most points moves onto the next round.
Esteemed Jurors:
Anika Smulovitz and Andrew Cooperman
Rules:
One submission per artist
The ring must be an original design created by submitting artist
The ring must fit within a USPS, small flat rate shipping box with enough padding to ship safely.
The ring must fit fingers between sizes 5-10
No restriction on the nature of material used or shape within above parameters.
The ring must be for sale: 50/50 split; all selected rings will be available on the Danaca Design Online Gallery for the duration of the tournament and circumstances permitting, be part of a special exhibition in the Seattle studio gallery.
The retail price of the ring must not exceed $1,200
Suggested entry fee of $5-$25
Deadlines:
Submission Deadline: May 1, 2020 (applications will go live April 13)
Notification Deadline: May 8, 2020
Rings Due to Gallery: May 15, 2020
Competition/Show Dates: June 1-30, 2020
How to Participate:
All voting happens online, at the Danaca Design Studio Instagram account. New matches are posted daily, in June at 9am (Pacific). Voting happens through our Instagram stories: in the app, tap the circle next to our account name. You can pick your favorite by tapping "TOP" or "BOTTOM" in the poll. The winner of the Instagram poll earns one point. Click on the links in the Instagram post to view more pictures of each ring.
One Ring to Rule Them All; May the Best Ring Win!