We are pleased to announce a definitive winner for BEST in SHOW in our exhibition of significant and powerful jewelry, STATE│meant 2020! This was an opportunity for jewelry artists to speak out on challenging subjects and raise money for an organization of significance to them. Each day we posed the question in an Instagram poll, "Is this a candidate for BEST in SHOW?" with two response options: "DEFINILETY" and "MAYBE". Since the voting increased over the course of the two weeks of posting I decided to calculate the votes based on percentages from the day of voting. 
Nancy Bonnema nailed it with her iconic necklace, "U. S. Mail Box" made from sterling silver, bronze, and stainless steel cable. Nancy's piece received a whopping 82.88% in favor of DEFINITELY, an overwhelming show of support. Not only that, her U.S. Mailbox inspired you to vote! 50% of the sale of this necklace will be donated to Fair Fight Action. @fairfightaction promotes fair elections, motivates voter participation in elections, and educates voters about their rights. Read below what Nancy wrote about her piece.  
Thanks to everyone who voted and purchased a piece from this show! There are many pieces still available. Check it out! We will keep it up until mid November.  
Nancy writes: The U. S Mail Box is an iconic symbol in our country. It was founded by Benjamin Franklin in 1792 with the passage of the Postal Service Act. The USPS is an American essential service and a time-honored organization.  It transports parcels, documents, voting, and many forms of communication as well as employing more than 7.3 million people. Now, most essential in the time of the Covid pandemic, our USPS has a specific mission to ensure a safe and secure voting process for all Americans. 
My piece is constructed from sterling silver and bronze.  It has a patina of liver of sulfur darkened to look aged thru time and to endure through the future. 
This Mail Box was a very special piece for me to construct because of my strong belief in the right to vote and participate in the democratic process.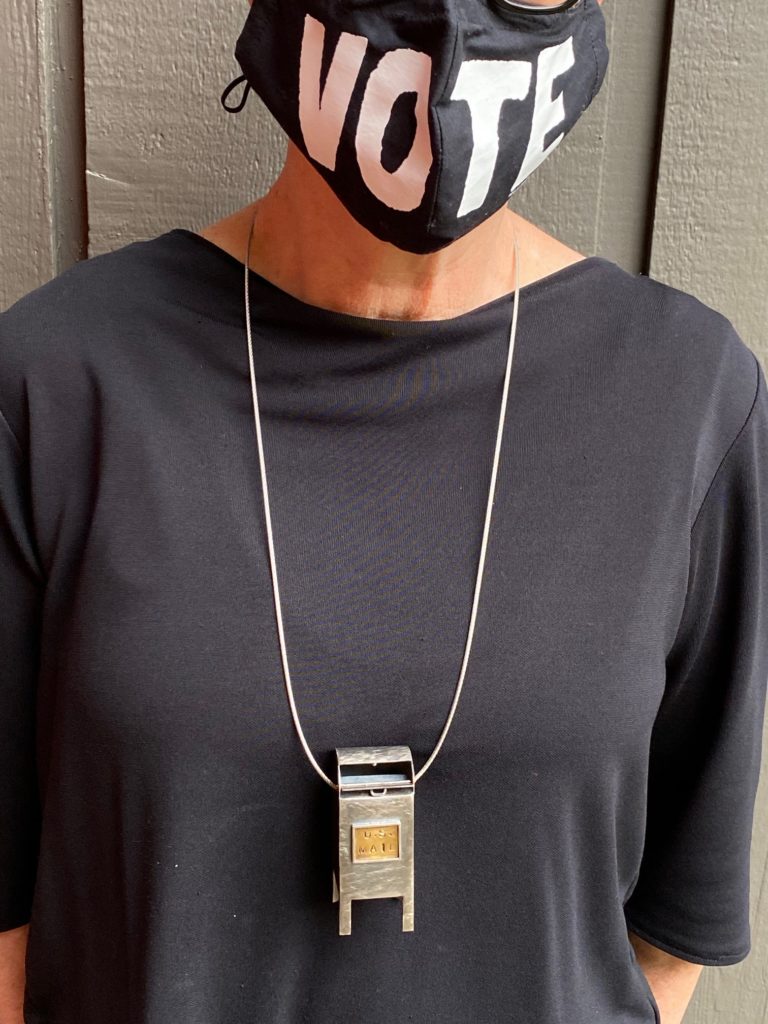 #statemeant2020 #danacadesignstudio #danacadesigngallery #statementjewelry #getintogoodtrouble #speakyourtruth #jewelrycompetition #fundraiser #jewelryexhibition #artjewelry #meaningfuljewelry #fundraiserevent #savethepostoffic #everyvotecounts #counteveryvote