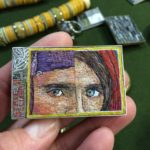 Instructor: Cynthia Toops
February 22 – 23, 2020
Saturday and Sunday, 10:00 - 5:00
Class Fee: $325
Cynthia Toops is widely recognized for her artistry in polymer clay, most especially for her micro-mosaics. If you are not familiar with her work, here is your chance to investigate it up close (she has AMAZING samples) and learn how to make treasured mosaics yourself. You will learn to transform a basic material into incredible images to use like gems in pendants, brooches, and rings. This class will cover mixing unique colors and choosing a pallet, making mosaic elements, and setting and finishing the mosaic in a piece of jewelry or frame. Metalsmiths can bring a finished piece with a thick-walled bezel to work with. No experience necessary, returning students welcome. Some materials included.
Prerequisites:
Materials Included:
-A wide variety of polymer clay colors to work with and necessary tools
-1/8" deep bezel cup with bale (with option to purchase a second)
Students Must Bring:
-Fine tipped tweezers (available in studio store)
-A design sketch or image to work from for mosaic
Students May Bring:
-Custom finished piece of jewelry with a minimum of 1/8" deep bezel. (Bezels over 1" in diameter may be too large to complete in allotted class time.)
-Additional Fimo classic or soft, variety colors for threads and tiles
-Sewing pins
-Single sided razor blade or tissue blade
-Pasta machine for polymer clay