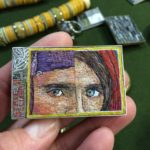 Cynthia Toops is widely recognized for her remarkable artistry in polymer clay, most especially for her polymer clay micro mosaics. In this workshop students will learn her tricks and create incredible micro-mosaics of their own to use like gems in pendants, brooches and/or rings.  No previous polymer clay or metal working experience is necessary for this exciting workshop.  Some materials included
Materials Included:
A wide variety of polymer clay colors to work with and necessary tools.
Students Must Bring:
-1/8 " bezel cup with bale or a finished piece of jewelry with a 1/8 inch deep bezel, no more than 1" diameter (a bezel cup will be available to purchase if students don't have one).
-A design sketch or image to work from for mosaic.
Students May Bring:
-Larger bezel cup, though students may not have time to finish larger pieces
-Fimo classic or soft, variety colors for threads and tiles
-Sewing pins
-Single sided razor blade or tissue blade
-Pasta machine
-Fine tipped tweezers