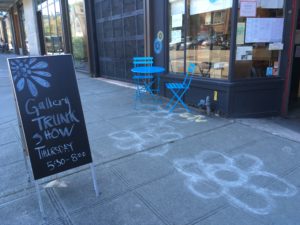 Danaca Design is a small-scale metal-working and jewelry fabrication studio, founded in 2003, located in the University District of Seattle. We sell artisan jewelry and tools for jewelers, and offer a full schedule of classes in the art of decorative metal work and jewelry design.
The store-front gallery showcases independent artists (professional and amateur) representing a mix of contemporary and traditional jewelry, all high-quality and handmade. We host gallery events and special exhibitions throughout the year and regularly encourage student participation.
We sell a select assortment of tools and supplies specifically for the convenience of our students and the local jewelry-making community. The selection includes handmade tools, fabrication hand-tools, cabochons and basic soldering and metals supplies.
Treat your team, friends or children to a custom experience in a fun and creative environment. Jewelry making provides an opportunity to use your hands, exercise your brain and support each other in the challenges presented by fine craftsmanship. Events are limited to a maximum of 12 people and projects are skillfully designed to meet your needs.
Our goal is to give every student the opportunity to be productive and creative at their comfort level, to hone skills and gain new abilities, to stretch, grow and experience achievement.
Gallery Hours
Monday – Friday | 11 – 6 pm
Saturday | 10 – 6 pm
We will be closing at 4pm Tuesday 2/5 due to inclement weather.
dana@danacadesign.com
206-524-0916
Directions:
From I-5 take the 50th St. exit (University of Washington), head east to 11 Avenue NE, go left (North) up to 56 Street NE, turn right (East) onto University Way NE, go North and the gallery is in the middle of the block on the west side of the Avenue.
Click here for a map of nearby parking availability.