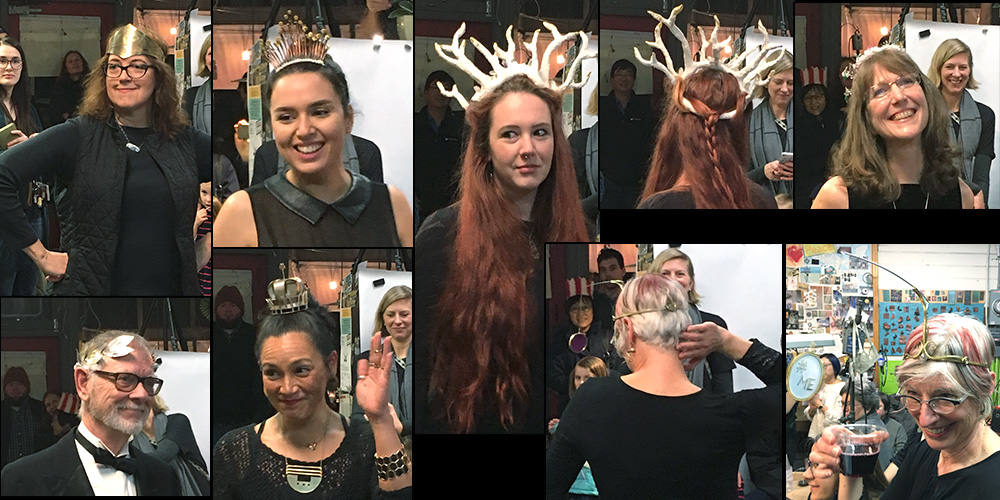 Happy New Year!
Back in February 2018, oh my, so long ago…Danaca Design hosted a fabulous show in the gallery, Crowning Glory: Ruling our Destinies, Directing our own Paths. This exhibition of crowns and tiaras was bold, creative and downright fun! I'm sorry if you missed it but you might be in luck – our tiara show is traveling to Greenville, North Carolina!
Chief, Queen, Tsar, Kaiser, Monarch, Caliph. The words conjure images of power and pageantry, impressive jewels, and imposing headdresses, crowns, and tiaras. Throughout history ruling over others usually meant belonging to the "right" family and class—and displaying the associated bling that demonstrated with sparkling intensity their wealth, power, and good taste.
Crowning Glory will be on exhibit through January 24 at Pitt County Arts Council at Emerge in the Don Edward Gallery. This non-profit arts organization is dedicated to enhancing the quality of life in Pitt County by promoting artists and arts organizations, educating through the arts, and making the arts accessible to the entire community.
This wonderful opportunity came to us as part of an inspiring symposium hosted annually at East Carolina University, the ECU Material Topics Symposium. I've never attended this event but have heard it's a good one, something to add to your calendar. This year's theme is "State of Adornment: Subject to Change," and it's this weekend! Find the detailed symposium schedule here: https://materialtopics.com/2019schedule/
There is a reception ECU Material Topics Symposium reception for our show Friday evening, January 18, 6pm -8pm.
Learn more at http://www.pittcountyarts.org/gallery/current-shows