Powerful words from a woman who cared deeply about justice. What is dear to your heart? Are you doing everything you can to fight for it? If you're a jeweler, I challenge you to do one more thing. I challenge you to Speak up! with a powerful piece of statement jewelry. And because I think this is so important, I have extended deadline!
Call to Artists
Juried Exhibition, Competition and Fundraiser
NEW Deadline 10/5/20
STATE│meant is an opportunity for you to speak out on challenging subjects and raise money for an organization significant to you. Make something new or submit an older piece. Two jurors will select work for this important show in six categories: brooches, earrings, necklaces, bracelets, rings, and headpieces. Selected work will be sold in our online gallery in support of the non-profit organization of the artists' choosing. Starting in mid-October, to raise awareness for the project, each piece will compete on Instagram for best in category and ultimately best in show. The competition will be by popular vote with the winner announced November 4, 2020.
These are unprecedented times…got something to say about it? Now is your chance! Please share this.
Rules:
One submission per artist
The object must be an original design created by submitting artist
The object must not exceed 8" x 8" x 8"
No restriction on the nature of material used, however it must be designed to wear.
The object must be for sale: 50% of each piece will go direct to the organization of the artist's choice, 25% to the artist, 25% to the gallery.
All selected objects will be for sale in our online gallery for the duration of the event. Danaca Design Gallery will process all sales.
The retail price of the object must not exceed $1,600.00 USD.
Artists are responsible to provide professional quality images of the work for jury and for the online gallery.
Artists will be responsible to drop-ship sold work to purchasing party
Suggested entry fee of $10-$25
Deadlines:
Submission Deadline: October 5, 2020 (ENTRY FORMS HERE)
Artist Notification Date: October 9, 2020
Competition/Show Dates: October 15-November 3, 2020
Our esteemed jurors: Keith Lewis and Nancy Megan Corwin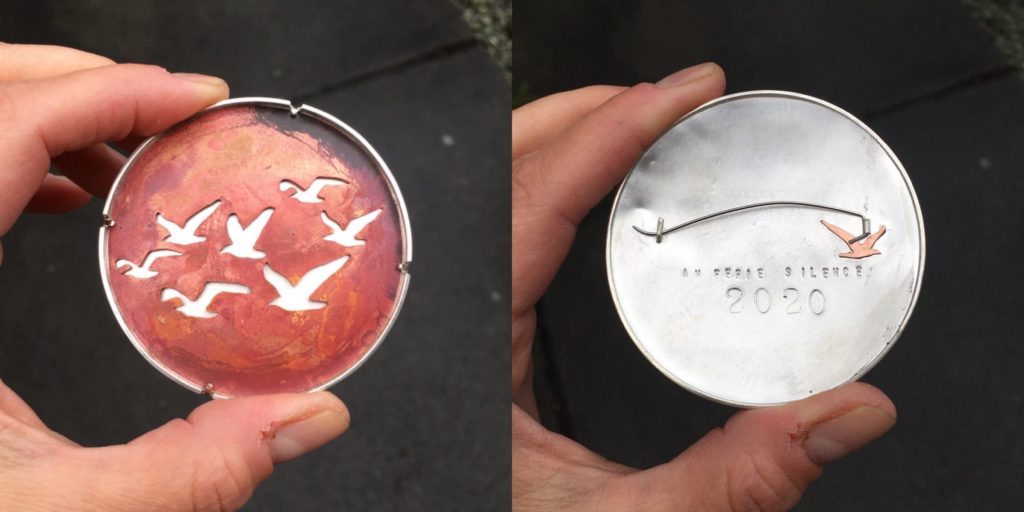 To inspire you I made a piece for the show. Remember the red sun and hazardous air from mid-September? So much has happened since then and the skies are now blue again, almost as if it never happened…but it did, no matter how that fact blurs over time. And it will likely happen again in part because the climate is changing.
I am fortunate to live near the water in Seattle. Every night at dusk a stream of seagulls fly west for the night. My friend calls it the "seagull highway". I have no idea where they go but there are hundreds, maybe thousands every night, even last week. It got me thinking about all of the animals doing their best to survive under increasingly challenging circumstances. The difference between them and us is we can do something about it.
I made this brooch, a red sun with a stream on seagulls, in response to these thoughts and observations. I have titled it, "An Eerie Silence", something all bird lovers noticed during those smoke filled days, no bird song… 100% of the proceeds from the sale of this brooch will be donated to The National Audubon Society. Look for it in our gallery in October!
Can't wait to see what you all come up with!
Dana