Dear Friends,
One year ago, I was expecting a visitor from Beijing. A day before her scheduled departure, ALL flights were canceled from China. Shortly thereafter, she was in TOTAL lockdown. It was then I began to think, maybe this virus thing is more serious than we know…
None-the-less, we took our annual trip to Arizona, via Joshua Tree, for the Yuma Arts Symposium. As a joke (I think) someone passed out surgical masks during the annual pin exchange. It was funny, ironic and of course, later I regretted not keeping it!  Well, the rest is history, one with which we are all too familiar. 
For the first time in a year, I am beginning to see the light at the end of the tunnel. How about you? 
You may or may not be aware that I made some significant changes to the studio last summer. I put the gallery into storage, bought us jewelry benches and expanded the classroom into the front of the building. We are now a six-bench studio, rather than 12, with twice as much space: six very comfortable, socially distanced benches with a complete set of hand tools and a hammering station at each bench. These changes allowed us to finish out most of our rescheduled classes last year and they will allow us to move forward towards normalcy. Albeit slowly, forward we must move. 
Below are some of the activities for you can look forward to at Danaca Design Studio in the next few weeks, including Jewelry Trivia (this Thursday!), Ring Smackdown 2021 and IN STUDIO CLASSES! 
FIRST: ZOOM JEWELRY TRIVIA was a BLAST, so we are doing it again, this Thursday, FEBRUARY 25, 6:30-8:00. Looking for some good, clean fun and a little community building, join Danaca Design and Andy Cooperman and other jewelers and metalsmiths from across the country to TEST YOUR JEWELRY KNOWLEDGE! You must register HERE to participate!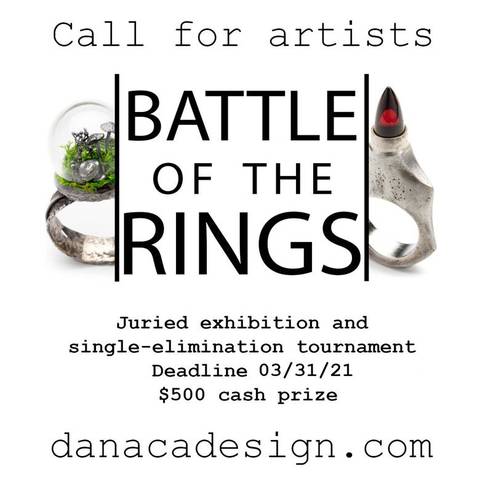 SECOND: It's official. THE RING SMACKDOWN 2021 IS ON! Battle of the Rings, otherwise known as the Ring Smackdown, is a head-to-head, single-elimination juried ring competition and virtual event with a top prize of $500. #maythebestringwin. We are pleased to announce Cappy Counard and Kirk Lang as our 2021 esteemed jurors. SUBMISSION DEADLINE MARCH 31. Please share this call and find ALL the details HERE! 

LAST: but not least, WE'VE GOT CLASSES ON THE SCHEDULE! I know some of you are ready to get back into the studio and well, some of us are too. And while we are not 100% back to normal we are definitely working towards it starting with top quality, in studio classes. The classes are small and a bit shorter, windows are open with a refreshing cross-breeze, and of course everyone is masked but other than that, it's pretty normal and just as much fun! See what's on the schedule next below and all the classes HERE. 
Kiln Fire Enameling Basics I, February 28. Get a taste for timeless and vibrant beauty of colored glass on metal it in this quick one-day workshop with Michelle Zeidman. Details HERE. 
It Ain't Just A Drill, HANDS-ON: Getting the Most Out Of Your Flex Shaft, March 6 and 7. So, you're a jeweler or metalsmith about to be stranded on a desert island (for some inexplicable reason this island has, along with coconuts, electricity).  You can bring only one tool. What tool do you bring? Andy Cooperman will show you why it should be a flexible shaft. Details HERE. 
Bang & Bend: Small-Scale Jewelry Forging, March 26-28. Moving metal with a hammer—forging—lies at the very heart of jewelry and metalsmithing and is one of its great joys with Andy Cooperman. Details HERE. 
We are looking forward to seeing you soon! 
Dana