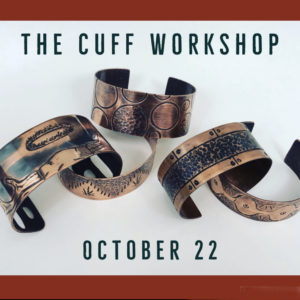 The Cuff Workshop
Instructor: Barbara Knuth
October 22, Saturday 10:00am – 5:00pm
Great for beginners AND intermediate students!
Cuff bracelets can be both powerful and stylish, however from a metalsmith's perspective they are so much more! A cuff bracelet provides a fantastic canvas to explore many texturizing options for metal including roller printing and stamping. They are also an excellent form to begin discovering the incredible malleability of soft metals like copper, brass and silver. In this one-day workshop, you will learn how to make a unique handmade cuff bracelet experimenting with a variety of texturing processes including hammer textures, embossing, roller printing and stamping. Demos will also include annealing, forming, and final finishing for a comfortable, perfect fit cuff. Multiple samples will be done in copper with the option to purchase silver for a final piece. Students will leave this workshop with a minimum of one finished copper cuff and possibly a silver one!
Learn more or register HERE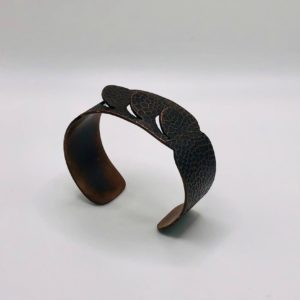 Instructor Bio:
Barbara Knuth was born and raised in rural Wisconsin where she grew up working with her hands, making things, and enjoying life on the farm. As an adult she discovered her love for metalsmithing while attending University of Wisconsin Whitewater which is where she received her BFA in metalsmithing. Barbara continued onto graduate school at San Diego State University where she earned an MFA in metalsmithing. After school she made her move to Seattle to be a part of a thriving metals community that she actively participates in. Barbara spent 7 years teaching metalsmithing and jewelry full time at Auburn Mountainview High School where she shared her love of metalsmithing with gobs of teenagers. She creates her own work in a private studio at her home in South Seattle and shows her work locally on a regular basis.