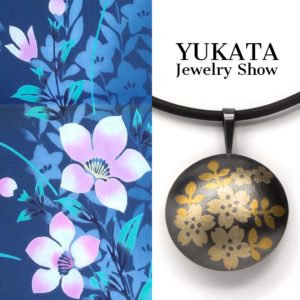 A Creative Collaboration between Okan Arts and Danaca Design
Vintage hand-dyed yukata cotton from Japan is the inspiration for the work in the Yukata Jewelry Show. The fabric, provided by Okan Arts, was sourced from over 30 vendors in Japan—antique shops, vintage warehouses, used kimono shops, and pickers. A cadre of artists affiliated with Danaca Design took the challenge—to design a piece of jewelry inspired by or made from this luscious and dynamic fabric.
On view in the gallery September 2020
View more HERE.