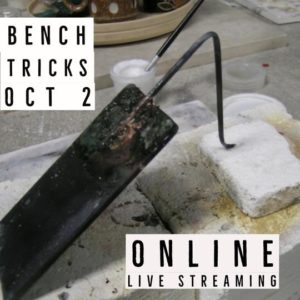 Bench Tricks for Jewelers: ONLINE – Live Instruction!
Instructor: Charles Lewton-Brain
October 2, Saturday, 9:30am – 1:00pm and 2:30pm – 5:00pm Pacific Time
Class Fee: $190
Learn more or register HERE.
If you are interested in homemade tools and bench tricks to speed your production and understanding of metalsmithing, this workshop is for you. In this workshop, executed with both live discussion and prerecorded documentation, Charles will cover a loose, eclectic collection of short cuts and jewelry tricks. Expect stone setting and polishing hints as well as alternative equipment options for metalsmiths. Cheap tool making, jeweler's secrets and unexpected sources for tools are described in detail, many of which are found in Lewton-Brain's book, Cheap Thrills in the Toolshop, Bench Tricks for Goldsmiths. Students are encouraged to bring their favorite bench trick to share!