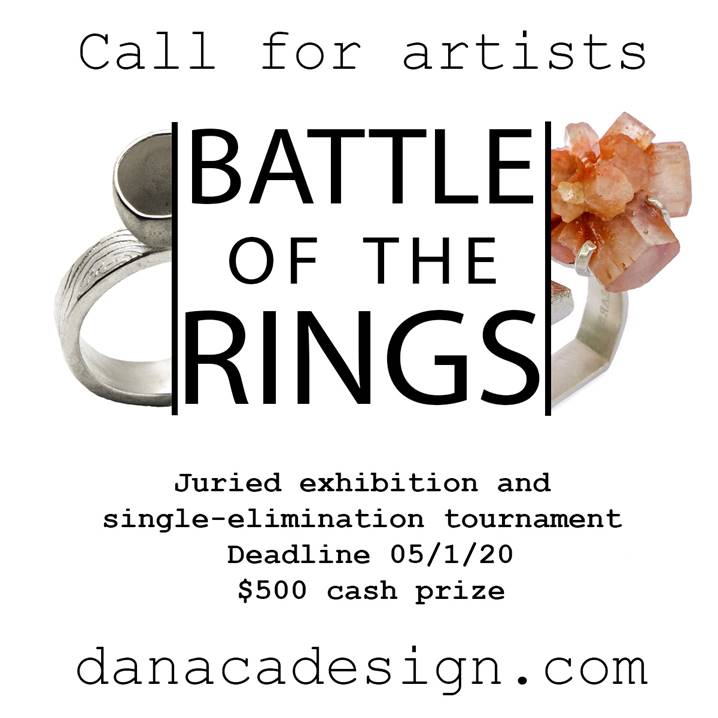 Do you have a little extra time on your hands or need a distraction from our current global crisis or just need to GET AWAY FROM YOUR COMPUTER SCREEN?! A small team at Danaca Design has created a challenge for you. Well, actually a competition with a cash prize!
Battle of the Rings is a head-to-head, tournament style, single-elimination juried competition and virtual event with a top prize of $500. Two jurors will select up to 64 rings.  These rings will be paired into matches and posted to our Instagram story at 9am (Pacific), every day in June. The Ring with the most points moves onto the next round. The last ring standing will be crowned, the RING KING! HAHA, ok we haven't actually discussed the title yet! But the main point is they win the money.
Our esteemed jurors this year are, Anika Smulovitz and Andrew Cooperman. Learn more about them below!
This competition was 100% inspired by Saltstone Ceramics' Mug Madness. It looked like so much fun I thought we should give it a try! Details are below and at www.danacadesign.com. If you don't have a home studio this might be a great time to get REALLY creative!
PLEASE SHARE THIS!
Battle of the Rings or #RingSmackdown2020: One Ring to Rule Them All
Rules:
One submission per artist
The ring must be an original design created by submitting artist
The ring must fit within a USPS, small flat rate shipping box with enough padding to ship safely.
The ring must fit fingers between sizes 5-10
No restriction on the nature of material used or shape within above parameters.
The ring must be for sale: 50/50 split; all selected rings will be available on the Danaca Design Online Gallery for the duration of the tournament and circumstances permitting, be part of a special exhibition in the Seattle studio gallery.
The retail price of the ring must not exceed $1,200
Suggested entry fee of $5-$25
Deadlines:
Submission Deadline: May 1, 2020
Artist Notification Date: May 8, 2020
Rings Due to Gallery: May 15, 2020
Competition/Show Dates: June 1-30, 2020
Enter the competition HERE!
And may the best ring win… 🙂
Battle of the Rings Jurors
Anika Smulovitz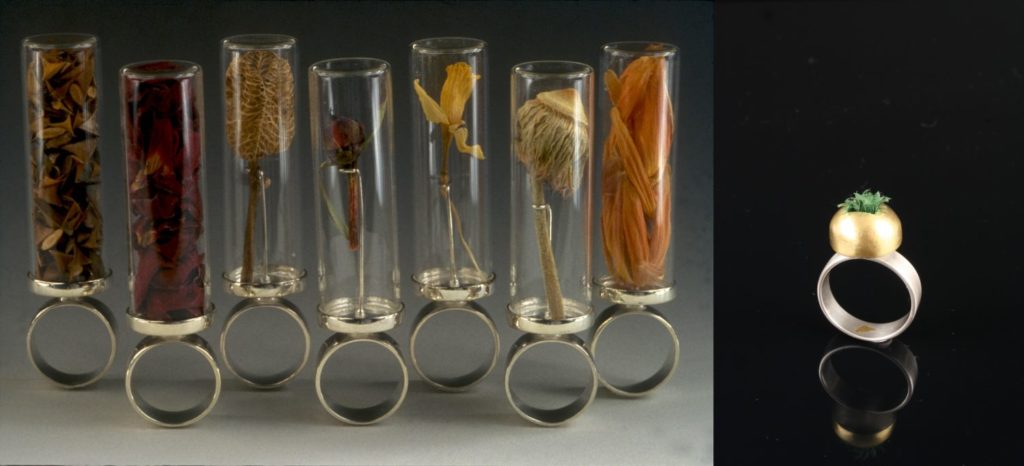 Anika Smulovitz is an artist, metalsmith, and Professor of Art at Boise State University. Smulovitz served on the Board of Directors of the Society of North American Goldsmiths (2009- 2012). Smulovitz' work is exhibited nationally and internationally, and appears in numerous publications. Her work is included in the permanent collection of The Jewish Museum in NYC, has received a Niche Award and she also holds a US Design Patent for her Lip Liners. She received her MFA (2003) and MA (2001) from University of Wisconsin-Madison, and her BFA from University of Oregon (1997).
Andy Cooperman
Seattle metalsmith Andy Cooperman makes all sorts of things from all sorts of things and is known for applying the rigorous craftsmanship of fine metalsmithing to a wide variety of, often disparate, materials.. He has been a jeweler and metalsmith for over thirty years and a writer and educator for close to that. Andy especially loves making rings—rings of all kinds– from wedding bands to rings sporting nine-inch porcupine quills
Andy teaches and lectures around the country as a visiting artist, seminar and workshop instructor. As an ordained minister in the Universal Life Church, he is also available for parties, bar mitzvahs and weddings.