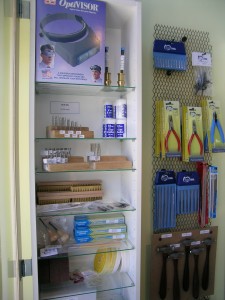 Tools and Supplies 15% off!
Tools are a great gift and starting November 23 they are 15% off at Danaca Design. In celebration of our 15 year anniversary we have upped our game to offer you great savings on tools and supplies, right through the end of December.  While supplies last, some restrictions apply!
Danaca sells a select assortment of tools and supplies specifically for the convenience of our students and the local jewelry-making community. The selection includes choice handmade tools by one of our instructors, Bill Dawson; first-rate Fretz hammers; as well as a decent assortment of necessary hand tools for the trade. A selection of basic supplies are also available including metal, solder, drill bits, sandpaper, cabochons and an assortment of replaceable flexshaft attachments. Kits are available, see details soon.