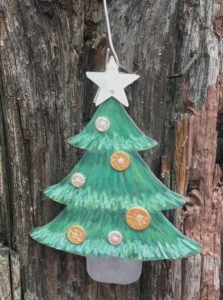 Great class to take with your kids!
Holiday Ornaments
December 14, 2019
Saturday 10:00 – 4:00
Make your own beautiful metal ornaments for the holiday season! In this family-friendly 1-day workshop, students will create one-of-a-kind ornaments in copper, brass, and silver, while learning metalsmithing fundamentals such as sawing, drilling, disc-cutting, stamping, riveting, and basic wire working and colorful embellishments will be made with Prismacolor pencils! Come on your own, or with your kids, 8 and up. No experience necessary.