In an effort to keep you learning at home we've put together five tool kits which you can purchase below. We can ship them to you or you can curbside pick-up during specific hours.
These kits are designed be purchased in order, starting with Kit #1 and building up to Kit #5 – Essentially you'll need the items in Kit #1 to be effective with Kit #2, etc… If you already have the items in Kit #1 then go for Kit #2! If you need a couple items from Kit #1 just let us know and we can prepare a personalized online invoice for you. You will receive 10% off the cost of tools when you purchase them as a kit.
If you're looking to supplement the tools and supplies you already have, feel free to email us with your wish list and if we have them we'll send them your way, dana@danacadesign.com.
There is a short video explaining each item in the kits and its basic use. Very soon we will have classes streaming online teaching you all sort of things you can make with your kits!
Tool Kit Shipping and Policies
---

#1 Wire Working Kit
Kit Item Details
Kit Video Description
---

#2 Basic Metalsmithing Kit 
Kit Item Details
Kit Video Description 
---

#3 Soldering Kit 
Kit Item Details
Kit Video Description
---

#4 Ring Making Kit
Kit Item Details
Kit Video Description
---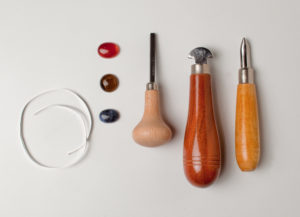 #5 – Bezel Setting Kit
Kit Item Details
Kit Video Description
---