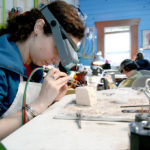 Instructor: Micki Lippe
November 3, 2018
Saturday, 10:00am - 4:00pm
Class Fee: $95
While there are several torch options, one of the most popular among bench jewelers is a mixed fuel, oxy-propane, and one of the best is the Smith ""little-torch"".  Micki Lippe will show you why as she demonstrates the versatility and precision of this well-loved tool.  Whether you own a mini-torch or not this is a great opportunity to pick up some soldering tricks from a seasoned professional while exploring the ways in which the "little torch" can benefit you.  Set up and basic maintenance will be covered and students are encouraged to bring their "soldering problems" to class!  Basic soldering experience required.
Prerequisites:
Basic soldering experience required.
Materials Included:
-Solder
-Scrap brass and copper to practice with
Students Must Bring:
-Scrap sterling for practice (additional silver sheet and wire available in studio store)
-Samples of your work, especially problem pieces
Students May Bring:
-Current projects to discuss and practice using the torch
-Personal "little -torch" and tips
-Sterling Silver Sheet - 28, 26 - about two square inches of each
-Sterling Silver Wire - 22, 20, 18, 16 and 14 gauge - about 6 inches of each