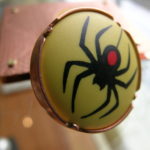 Instructor: Dana Cassara
August 12 – 16, 2019
Monday - Friday, 5 weekdays, 10:30-5:00
Class Fee: $645
What could be more fun than making jewelry for an entire week? Nothing! Join me on this five-day journey that will boost your confidence and knowledge at the jeweler's bench. We will focus heavily on construction and soldering tricks as well as finishing techniques to create desired surfaces. A variety of stone setting options will be covered including tube, pedestal, and captured settings. Basic hydraulic press forming for creating multiples and preserving textures as well as simple hinges and a variety of cold connections and clasp systems will also be presented. Students may choose to work through the design and completion of a complex piece of jewelry or create samples of each technique over the course of the week.
Prerequisites: Beginning Jewelry Series or equivalent
Basic materials included
Prerequisites:
Total Immersion: Beginning Jewelry Making or the entire Beginning Series: Introduction to Silversmithing, Rings for Beginner's, and Nifty Links and Hollow Forms or equivalent beginning jewelry making class.
Materials Included:
-Copper/brass sheet and wire for samples
-Copper tubing for hinge and silver tubing stone setting samples
-Faceted stone for tube set sample
-Solder, flux, sandpaper
Students Must Bring:
-Stones or other found objects
Students May Bring:
-Silver sheet metal, 24-20 gauges (available in studio store)
-Various sizes of silver wire 14-20 gauges (available in studio store)
-Silver tubing (available in studio store)