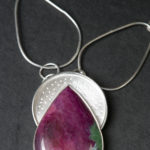 Instructor: Dana Cassara
August 5 – 9, 2019
Monday - Friday | 5 weekdays | 10:00 - 5:00
Class Fee: $695
What could be more fun than spending a week totally immersed in learning to make jewelry? Spend five exciting days in a row doing just that. As part of a group, you'll learn the fundamentals of working with precious metal including: sawing, disc cutting and dapping, hammer texturing, roll printing, basic forming and finishing, as well as bezel setting stones. In this beginning silversmithing class, students will use copper, brass, and sterling silver to make individualized jewelry pieces including a pin, a pendent, a ring, and a simple linked project. Each night you'll go home dreaming of what to create the next day, designing in your sleep. This class is an ideal way to explore a range of techniques and create several projects in a concentrated time. 
No experience necessary
. Basic materials included
Prerequisites:
Materials Included:
-Copper for brooch and other samples
-Sterling silver for a pendant, band ring and linked bracelet
-Cabochon stone for pendant or ring
-If students want to work larger than the samples shown there may be additional materials costs.
Students May Bring:
-Additional materials to work with like cabochons, found objects or other metal