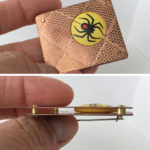 Instructor: Dana Cassara
Saturday 10:00am - 4:00pm
Class Fee: $95
Basic riveting is a fun and a simple way to connect metal to metal and/or metal to non-metal or even non-metal to non-metal!  A new world of possibilities opens up to a jewelry designer when heat is taken out of the equation. Several simple rivet options will be demonstrated. We will discuss the advantages of each then hunker down to make some projects practicing what we've learned. This will be a fast paced, exciting class focused on designing, problem solving, practicing and producing work without soldering. Students should bring materials they are interested to incorporate into their projects. No experience necessary. Basic materials included.
Prerequisites:
Materials Included:
-Copper, brass, and other metals for making samples
-Some stuff that might be fun to rivet
Students May Bring:
-Some stuff that might be fun to rivet