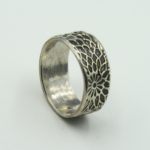 Instructor: Suzette O'Dell
October 19, 2019
Saturday 10:30 – 5:00
Class Fee: $95
Discover what you can make with Precious Metal Clay+ (PMC+). This marvelous material that can be worked just like clay yet when fired results in pure metals, in this case fine silver. Students will have the opportunity to construct and fire two or three pieces. In this one-day class, you will get a taste of what is possible while building a strong foundation to pursue the material in the future. No experience necessary.
Materials kit $75 payable to instructor, cash or check
Materials Included:
-One package PMC+
-PMC slip
-Rubber mold-making material
-A variety of stones
-Tool kit to use during the class
Students Must Bring:
-Materials kit $75 payable to instructor, cash or check
Students May Bring:
-Rubber stamps or fabric for textures