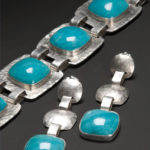 Now offered three times per week! Join Mentored Independent Study to learn new skills in a consistently supportive environment. With instructor guidance, these weekly classes allow students to explore a wide range of projects and techniques. Class-time can be used to both game-plan and work, while demonstrations are tailored specifically to each student. This is an excellent opportunity to tackle a challenging project that you need feedback on, or technical advice to execute. Basic metal working skills are required.
$178 per month includes ONE session per week and all practice hours.
$278 per month includes TWO sessions per week and all practice hours.
Mix and match time slots.
Please contact us at dana@danacadesign.com or 206-524-0916 to register for a second weekly session.
6:00-9:00, Tuesday evening, Instructor: Juan Reyes
10:00-1:00, Thursday morning, Instructor: Dana Cassara
10:00-1:00, Friday morning, Instructor: Maru Almeida
Students enrolled in monthly Mentored Independent Study are eligible and encouraged to work outside of class on class projects during Practice Hours. There is no additional charge to attend.
Practice Hours: Sundays 5-9, Thursdays, 1-9. Tuesdays, 10-2
(Check website for exceptions and details.)
$160 Punch Card, any 12 hours of Mentored Study, during any time slot.
$20 per hour to Drop-in.
Call or stop by the studio to purchase drop-in hours and punchcards.
Drop-in students and Punch Card holders do not have access to Practice Hours.
Prerequisites:
Basic metal working skills are required.
Materials Included:
Students Must Bring:
All consumable materials including metal, saw blades, drill bits, sandpaper and solder. Projects to work on!