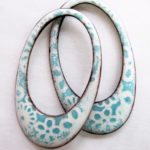 This is the rescheduled Kiln Fire Enameling Basics class from April 11.
Prerequisites:
Materials Included:
Students will be provided with copper and a wide variety of enamel colors to work with.
Students Must Bring:
-N95 Dust Mask (available in studio store)
Students May Bring:
-Precut copper shapes, stamps, stencils, lead free enamels
-Students are welcome to bring 20g-22g fine silver sheet if they want to experiment with silver. The silver must be fine and not sterling.