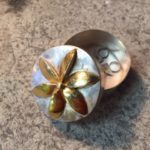 Instructor: Suz O'Dell
October 20, 2019
Sunday, 10:30 - 1:30
Class Fee: $75
Add the luster of gold to your silver fabrications using keum-boo. In this ancient Korean technique (pronounced kum-boo, meaning ""attached gold""), pure gold foil is bonded to the surface of another pure metal such as fine silver. The result can be dramatic with rich color and texture. This is a great technique to inexpensively add gold to your work for a beautiful mixed metal look.  Students must bring finished PMC pieces, fine silver, or sterling silver pieces with a fine silver finish to class for applying the keum-boo process (mostly flat surfaces, no hollow forms). 
All levels
.
$35 materials fee, payable to instructor check or cash
Prerequisites:
Materials Included:
Students Must Bring:
-Finished PMC piece, fine silver or sterling silver with fine silver finished surface piece (some fine silver will be available for purchase)
-Wooden kitchen skewer (or chop stick)
-Leather garden gloves that actually fit and in which you can work
-Sharp scissors
-Craft paper cutters, spiral, star, etc. (optional)
-$35 materials fee, payable to instructor check or cash
Students May Bring:
-$35 or $75 Materials Fee Payable to instructor, cash or check
-Fine tip tweezers - 5 inches or longer (available in studio store)
-Agate burnisher (available in studio store)