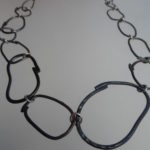 Instructor: Jennifer Stenhouse
August 3 – 4, 2019
Saturday and Sunday, 10:30 - 5:00
Class Fee: $295
In this fun introductory class, students will learn the essentials of soldering and making jewelry with wire – a perfect class to create gifts for family and friends or even start a little business.  Working with silver, copper, and brass wire students will tackle soldering, forming and forging wire creating simple findings and basic chain making.  Students will have the opportunity to use a variety of torches including a butane torch (think crème brûlée) and acetylene/air torch. How to set up your own basic jewelry making studio will also be discussed so that techniques covered in class can be continued at home with a simple set-up. 
No experience necessary
. Basic materials included
Prerequisites:
Materials Included:
-Copper, brass, and sterling silver wire, 20 and 18 gauge, to create projects
-Solder for projects
Students May Bring:
-Additional sterling silver wire of varying gauges (available for purchase in studio store)