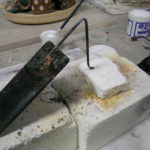 This is the rescheduled Bench Tricks for Metalsmiths class from March 27.
If you are interested in homemade tools and bench tricks to speed your production and understanding of metalsmithing, this workshop is for you. Charles will cover a loose, eclectic collection of short cuts, bench tricks, stone setting and polishing hints and alternative equipment options for metalsmiths. Cheap tool making, jeweler's secrets and unexpected sources for tools are described in detail, many of which are found in Lewton-Brain's book, Cheap Thrills in the Toolshop and the CD, Bench Tricks for Goldsmiths.
Prerequisites:
Materials Included:
This is a primarily demonstration style workshop, students will be provided with any little bits and pieces that might result. You just never know what Charles will come up with!
Students Must Bring:
Bring your favorite bench trick to share