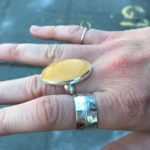 Instructor: Dana Cassara
July 18 – 19, 2020
Saturday and Sunday, 10:00 - 5:00
Class Fee: $325
This class is full. Please email dana@danacadesign.com to be added to the waitlist.
Originally scheduled March 21 and 22, this class has been reschedule a second time to July 18 and 19.
Prerequisites:
Materials Included:
-Materials to produce two sterling silver rings
-Cabochon stone
-If students choose to work larger than the samples shown in class there may be an additional materials fee.
Students May Bring:
-Additional sheet metal or wire (available in studio store)
-A cabochon (available in studio store)