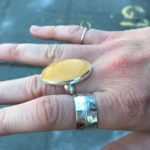 Instructor: Dana Cassara
July 11 – 12, 2020
Saturday and Sunday, 10:00 - 5:00
Class Fee: $325
This Beginning Series Workshop focuses on the basic construction of fabricated rings with and without stones. Each student will construct a simple, textured band ring as well as a ring with a bezel-set stone. In the process of designing and constructing these rings, students gain new soldering skills and become familiar with the three-dimensional possibilities and challenges of working with heavier gaged metal. Leaving with a couple of rings is a bonus. No experience necessary.
Prerequisites:
Materials Included:
-Materials to produce two sterling silver rings
-Cabochon stone
-If students choose to work larger than the samples shown in class there may be an additional materials fee.
Students May Bring:
-Additional sheet metal or wire (available in studio store)
-A cabochon (available in studio store)