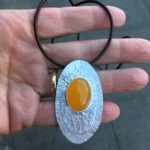 Instructor: Dana Cassara
April 4 – 5, 2020
Saturday and Sunday, 10:00 – 5:00
Class Fee: $325
This Beginning Series Workshop is an ideal introduction to the fundamental aspects of silversmithing.  Explore jewelry design while learning all the valuable basics: to saw, file, texture, form, and solder nonferrous metals like copper, brass, and silver. Students will develop a good understanding of soldering and setting stones into bezels and will complete two pieces of jewelry. Get a taste for working in metal while gaining the foundation necessary to pursue the art of silversmithing. No experience necessary. Basic materials included.
Prerequisites:
Materials Included:
-Copper to make samples
-Sterling silver to make pendant
-Cabochon stone
-If you choose to work larger than the samples shown in class there may be an additional materials fee.
Students May Bring:
-Additional sheet metal (available in studio store)
-A cabochon (available in studio store)