Online registration is easy! But if you need to register with class credit, coupon code, gift card, or be added to a waitlist, or if you are registering someone other than yourself, please let us know via email, dana@danacadesign.com or give us a call, (206)524-0916.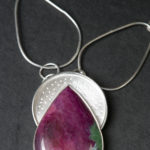 What could be more fun than spending a week totally immersed in learning to make jewelry? Spend five exciting days in a row doing just that. As part of a group, you'll learn the fundamentals of working with precious metal including: sawing, disc cutting and dapping, hammer texturing, roll printing, basic forming and finishing, as well as bezel setting stones. In this beginning silversmithing class, students will use copper, brass, and sterling silver to make individualized jewelry pieces including a pin, a pendent, a ring, and a simple linked project. Each night you'll go home dreaming of what to create the next day, designing in your sleep. This class is an ideal way to explore a range of techniques and create several projects in a concentrated time. No experience necessary. Basic materials included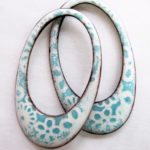 This class is full. Please email dana@danacadesign.com to be added to the waitlist.

Have you been curious about enameling, the timeless and vibrant beauty of colored glass and metal? Get a taste for it in this workshop spanning two weekday evenings. Students will work with a kiln for optimum control over their desired results and be introduced to proper application of opaque enamels onto flat and domed sheet metal by both sifting and wet-laying. They will have the opportunity to experiment with stencils and sgraffito to create exciting patterns or designs and explore controlled firing or, alternatively, allow for the interaction of enamels and the kiln to surprise and delight. Finished pieces can be completed with simple findings or incorporated into your current metal work with settings construct afterward. No experience necessary. Basic materials included.
This class is full. Please email dana@danacadesign.com to be added to the waitlist.

Learn soldering, or vastly improve your skills, while focusing on small hollow forms like beads and linked elements such as chains and simple hinged pieces. In this installment of the Beginning Series, students will be introduced to roll-printing, a technique for creating elaborate and organic textures in metal. You will create unique metal beads and learn some handy tricks for designing and soldering custom linked chains and clasps. Expect to create at least one fabulous linked project. No experience necessary.

Basic materials included.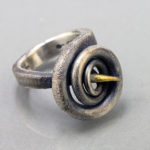 This class is full, please email dana@danacadesign.com to be added to the waitlist.

Forging--moving metal with a hammer-- lies at the very heart of metalsmithing and is one of its most joyful processes.  A forged object can be uniquely sculptural and expressive.

This 3-day class will explore small-scale forging, focusing on rings. We'll get our feet wet hammering copper or brass rod and then move into sterling with the goal of finishing at least one wearable ring. Time permitting, we can even melt clean (solder free) sterling scrap into ingots and forge from there. The skills learned here can be applied to different metals, scales and objects.

Topics include simple model making, tapering, clean up and alternative methods.

Students must have basic skills and be able to file, use the flex shaft, solder and anneal.

Materials Fee $20 payable to instructor, cash or check

(w/ option to purchase additional materials)