We now have online registration! But are still working out the bugs so...
Please call us to be placed on a waitlist if a class is Out of Stock or if you need to register with a Class Credit or Gift Card (206) 524 0916.
We welcome feedback/comments/questions at dana@danacadesign.com
This class is already in session.

The ancient technique of lost wax casting is widely used today for mass producing jewelry and jewelry components but it is also used to create unique one-of-a-kind jewelry pieces. In this comprehensive workshop, you will learn the fundamentals and some useful tricks for designing and creating wax models for casting. Students will be introduced to the casting process and explore a variety wax types and techniques in order understand how to prepare ideal waxes for casting. Projects will include pendants, rings, and charms. The finished waxes will be sent out to a professional casting house and returned the final week for finishing. *Students enrolled in multiple week classes are eligible and encouraged to work outside of class on class projects during Practice Hours.  No experience necessary; returning students are welcome.

Basic materials included.
This class is FULL. Please email or call if you'd like to be added to the waitlist, dana@danacadesign.com or 206-524-0916. This Beginning Series Workshop focuses on the basic construction of fabricated rings with and without stones.  Each student will construct a simple, textured band ring as well as a ring with a bezel-set stone. In the process of designing and constructing these rings, students gain new soldering skills and become familiar with the three-dimensional possibilities and challenges of working with heavier gaged metal. Leaving with a couple of rings is a bonus. No experience necessary. Basic materials included
This class is FULL. Please email or call if you'd like to be added to the waitlist, dana@danacadesign.com or 206-524-0916.

Mastering the fine craft of engraving is a lifetime endeavor, but like most arts the basics can be learned in a fairly short time, thereafter repetition and careful practice increase skill. However a lot of embellishment can be done with relatively little engraving experience and engraving can add a great deal of interest to your designs. Understanding how to use a graver can also help with stone setting and tricky solder joints. In this workshop students will begin with the basics, tool setup and layout, then explore hand engraving, wriggle cut, and hammer driven engraving. A variety of methods for holding the work and schemes for pattern transfer will be covered. Lettering, gunmetal engraving, and inlay work will not. Each student will take home a basic set of gravers fitted to their own hands and a whole new range of options for decorating their designs. No experience necessary but some familiarity with tool sharpening is helpful as we will be doing a lot of that!
$60 Materials fee payable to instructor, cash or check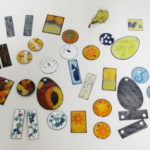 Basic materials included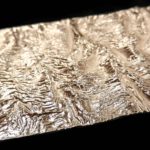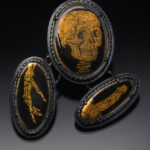 The firing of graphite drawings into enamel- which offers the possibility of producing highly detailed and delicate images. Demos will include prepping the enamel for receiving the pencil marks, the use of blending, shading and graphite washes, the building-up of layers and over-glazing and the combination with Limoges techniques- especially watercolor washes. While it is possible to fire the drawings in a kiln, I will focus on a straightforward method of torch-firing that maximizes the clarity of the images.
The second technique (pioneered by jeweler Joan Parcher), will utilize reflective glass beads (used on airport runways) to create unexpected optical effects. Demos will include the use of various sized beads, compatible enamel undercoats and the complex optical interactions that can be created.
The third technique- virtually unknown in contemporary enamel circles and only described in one 1911 book- utilizes synthetic aventurine (goldstone) to produce enamels which sparkle due to the inclusion of copper or cobalt crystals into the enamel matrix.
The final technique will be the application- on enamel- of extremely delicate sgrafitto drawings in gold leaf- a technique derived from late Roman glass portrait rondels and adapted for use on vitreous enamels. Demos will focus on the crucial aspects of surface preparation and precise firing conditions that are necessary to achieve the effect.
Some materials included.

Beginning Series or equivalent experience required.
$95 Materials Fee Payable to Instructor, cash or check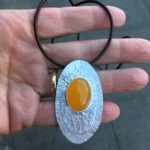 This class is taught by Tegan Wallace, who has been teaching jewelry making at the elementary and middle school level for several years.
Materials included.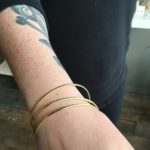 $30 Materials Kit Fee Payable to Instructor
Intermediate class, Basic metal working skills required